Kangaroo International Courier Service
Simple procedure, Door to Door international delivery

Service overview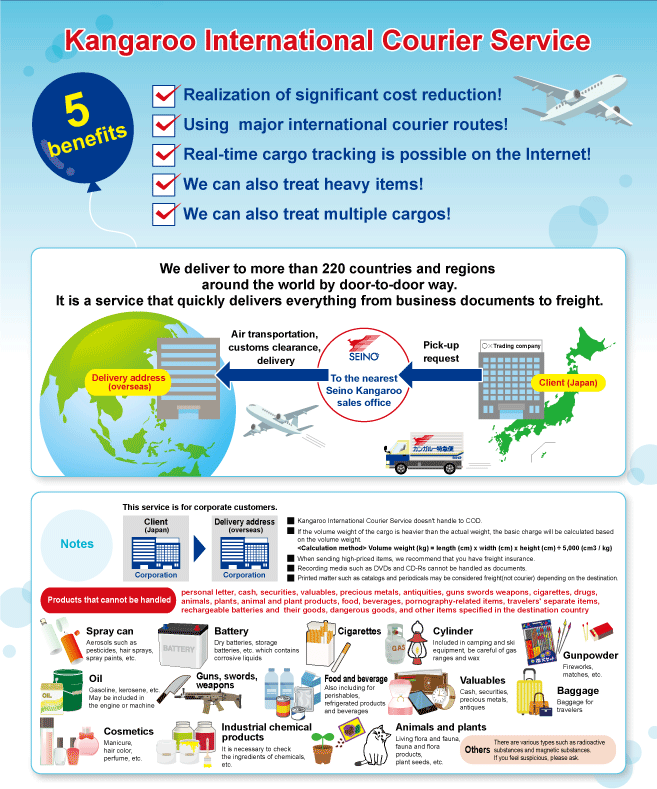 Applicable items
Product samples, spare parts, books, magazines, posters, films, etc.
* Import rules and restrictions and the handling of DOX and SPX differ depending on the country.
 Please contact our staff before shipping.
 In addition, there may be customs duties on the SPX. Please refer to the "Price" below.

* Kangaroo International Courier Service cannot handle items over JPY 300,000.
 If it exceeds JPY 300,000, please contact our staff.
Size
The weight and size of SPX is up to 30 kg per package, the total length, width and height is within 175 cm, and the length of one side is within 1 m. If you exceed this range, please contact the person in charge.
If the volume weight is heavier than the actual weight, the charge will be calculated based on the volume weight.

(Calculate the charge by converting to weight as 5,000 cm3 = 1 kg)
Calculation method: Volume weight (kg) = length (cm) x width (cm) x height (cm) ÷ 5,000 (cm3 / kg)
How to measure the size


For how to measure the size, add up the length + width + height and check the size against the table above.
How to calculate the shipping cost
The price of this service is based on weight.
The price includes various expenses such as collection / delivery fee, import / export customs fee, airfare, communication, etc., and it is an simple package price. For more information, please contact the person in charge.
DUTY&TAX (tariff)
Local customs duty and excise tax may be levied depending on the item of the product. The amount varies from country to country. If customs duty is incurred, the consignee will be billed separately (*) at a later date. (It usually takes about 1 to 3 months).
If you specify the billing address as the shipper, JPY 3,000 will be added.
Packing fee
If there is a packing fee, the actual cost + consumption tax will be charged.

Insurance fee
We recommend that you insure separately.

Fuel Surcharge
In recent years, crude oil prices have soared, and in response to the significant rise in fuel costs, we have introduced a fuel surcharge. The price calculation method is set based on the market price of jet fuel. Please contact the person in charge as the rate may change.
Items that cannot be handled
Due to the domestic postal law, correspondence cannot be handled.
Required documents
Invoice is required.
An invoice is a statement of goods to be shipped and is an important document required at the time of customs clearance.
It will be prepared by the customer who ships it. Please write all in English.
We have prepared an invoice entry form(

35KB) as an EXCEL file.
Please download and print it out before use.

Adobe Reader is required to view the marked pages. Please download the latest version from the following website.


Download Adobe Reader

Contact Us
Click here for inquiries regarding pick-up order, estimated shipping costs, required days, etc.

Kanto / Tohoku / Hokkaido Areas
International Department - East Japan



address
2554-17 Hongyotoku, Ichikawa City, Chiba Prefecture/td>
Phone number
047-398-0881
FAX

047-398-0893
Inquiry by email
seino266@seino.co.jp
Chubu / Hokuriku Areas
International Department - Central Japan



address
14-15 Yanagawa-cho, Nakagawa-ku, Nagoya City, Aichi
phone number
052-671-9161
FAX

052-682-8201
Inquiry by email
seino44601@seino.co.jp
Kansai / Chugoku / Shikoku / Kyushu / Okinawa Areas
International Department - West Japan



address
2-1-1 Fukusaki, Minato-ku, Osaka-shi, Osaka
phone number
06-6576-5327
FAX

06-6576-5372
Inquiry by email
seino62601@seino.co.jp
Click here for inquiries and opinions regarding products and services to Seino Transportation by e-mail.
Related services