Global 3PL
Seino Group's Global Network
Utilizing the Seino Group's global network, which is connected to approximately 1,100 locations around the world. We provide seamless logistics services on a global scale.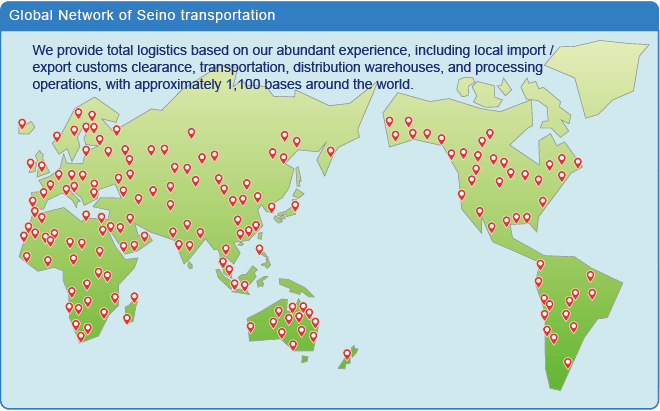 Busan Platform Project (PPP)
PPP is 100% completed by Seino Group / SCM visualization is realized
Logistics center operating in FTZ (Free Trade Area) of Busan New Port, South Korea
With Busan as a domestic backyard directly connected to 60 ports in Japan, we will design the efficiency of SCM (procurement and supply) together with your company.
Achieve on-demand transportation using Busan
We propose reduction of domestic transportation distance (freight cost) from conventional major ports and domestic one-stop logistics.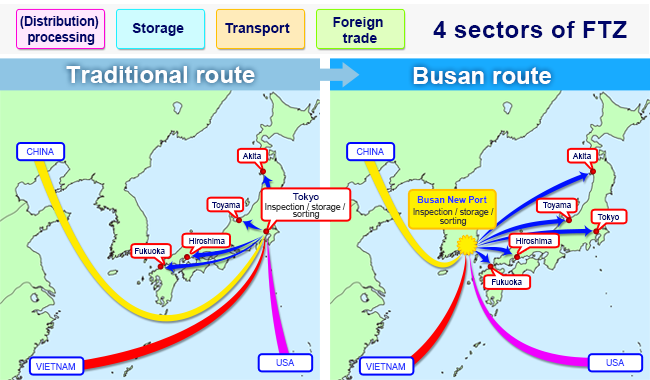 Facility information : MS Distripark
We provide a warehouse with the latest equipment.
1) Busan No.1 warehouse: Storage facility for dangerous goods
2) Busan No.2 warehouse: Refrigerated warehouse in Busan New Port
Busan No.1 Warehouse
-Total area: 33,000m2
-Facilities: Logistics center area 23,090m2
Dangerous goods warehouse : 1,330m2 , office : 2,507m2

Busan No.2 Warehouse
-Total area: 31,847m2
-Facilities: Logistics center area 35,723m2(2 stories)
Refrigerated / frozen warehouse 16,466m2 (6 stories)
Data linkage (CLOUD SLIMS)
Customers can check inventory status and work progress in real time through the monitor in their Japanese office.
Operate on the Japanese screen in Japan and on the multilingual screen overseas.
We will give shipping instructions in Japanese. You can manage your warehouse immediately by logging into CLOUD SLIMS.

It is possible for overseas distribution centers and Japanese shippers to operate while viewing the same information in real time.
SLIMS is a warehouse management system that integrates and manages the work and inventory of distribution centers, standardizes and streamlines operations, and raises the level of distribution services.
It is used by a wide range of customers regardless of industry or business type.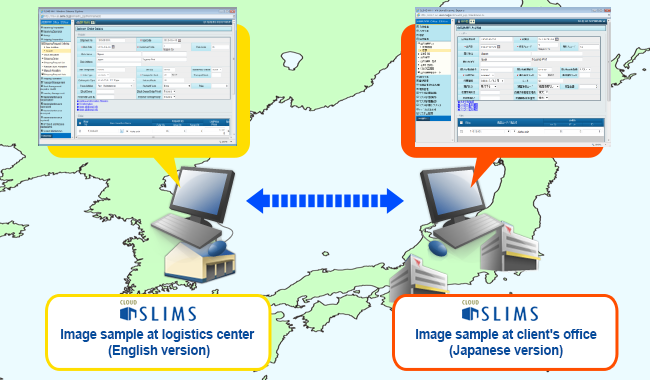 Providing the know-how of the Seino Group as a merit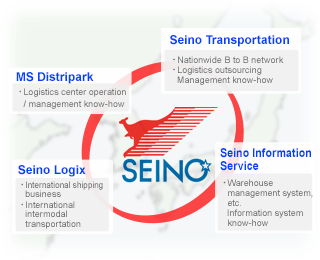 BtoB network covering Japan nationwide
We provide service with value by connecting Seino Transportation domestic network with the functions of Busan Port.
The Seino Group operates all of the local warehouse, marine transportation, domestic delivery, and IT system.
We visualize the entire SCM.
All related expenses can be settled in Japanese Yen.
We will streamline our customers' operations and provide certain benefits.
Contact Us
Click here for direct inquiries.
Seino Transportation Co., Ltd. International Department
1-12-9 Nihonbashihamacho, Chuo-ku, Tokyo Nihonbashihamacho Building 6F TEL: 03-3851-2612
Click here for inquiries and opinions regarding products and services to Seino Transportation by e-mail.