International moving service
A department specializing in international moving delivers your household goods safely.
Service overview
In Japan, we will provide detailed support such as information of overseas moving, packing, preparation of moving documents and unpacking. Overseas, Schenker's (1,100 locations) experienced moving specialists will be happy to assist you.
Flow of international moving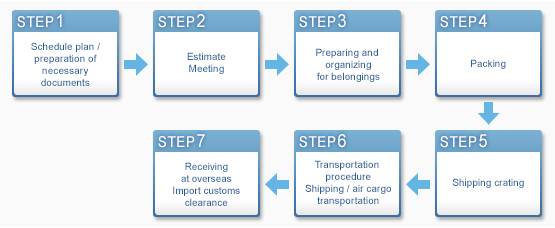 1. Moving plan / preparation of necessary documents
Once you have decided on your departure date, it is important to start planning your international moving as soon as possible. It is also important to start preparing the documents needed for overseas travel.
Points of moving plan
| | | |
| --- | --- | --- |
| Reservation of date and time for estimate | Unaccompanied baggage ( Air Shipment ) - Yes/No | Necessity of packing service - Yes/No |
| Delivery date of packing materials | Determination of pick-up date for moving cargo | (Necessity of storage in Japan - Yes/No) |
Necessary documents
Passport

Visa
Cargo visa (Required for Central America)
Air ticket (e-ticket)

2. Quotation / Meeting
An overseas moving expert will give you a direct quote and guide you through the entire process from procedure to installation.
If you have decided on a moving schedule, please contact us as soon as possible regardless of the schedule. There is no need to organize your moving cargo for a quote.
We will give you an estimate and a schedule for moving as you are in your daily life.

3. Arrangement and preparation of moving cargo
The next step after you have made an estimate is to sort the moving cargo.
Items to send to your new location
・ Items sent by Air
・ Items to be sent by Sea
・ Items to bring as baggage
Items to leave in Japan
・ Items to be stored (trunk room)
・ Items to be transferred ( to parents / relatives )
・ Items to be transferred to others or disposed
・ Things to leave (leave at home)
Items that cannot be handled
Precious metals, securities, cash, dangerous goods, etc.
Packing material
After you place the order, we deliver packing materials such as cardboard boxes in advance to help you organize your moving cargo. In addition, if you choose to pack by yourself, we will send you a guide book about packing materials, a statement of contents, and provide packing methods.
 Size
 Volume
 Cardboard (large)

 60 cm x 47 cm x 60 cm = 0.17 m

3

 Cardboard (middle)

 59 cm x 39 cm x 44 cm = 0.11 m

3

 Cardboard (small)

 47 cm x 39 cm x 34 cm = 0.07 m

3

 Book

 44 cm x 33 cm x 27 cm = 0.04 m

3

 Golf
 118 cm x 38 cm x 29 cm = 0.13 m

3

 Hanger box
 61 cm x 52 cm x 92 cm = 0.29 m

3
4. Packing
The site manager will make the packing list while the cargo is being packed. For fragile and valuable items, we use special materials for safe transportation.

* On the side of the case, name, destination, case number
(Serial number from No. 1) will be displayed.

Packing list is required to arrange import / export customs clearance and transportation insurance.
5. Shipping packing
We will create exterior packages according to the destination, so that it can be transported safely.


6. Export procedures (Sea / Air )
The following documents must be submitted to customs in order to ship your cargo overseas.
We will inform you in advance.
When you ship the cargo before departure ( shipping in advance )
 A copy of your passport

 A copy of the ticket or a copy of the e-ticket

 Statement of contents (Packing List)

When you ship the cargo after departure ( post departure shipment )
 A copy of the boarding certificate and e-ticket issued by the airline

 Statement of contents (Packing List)

Customs clearance as international moving cargo is limited to before the customer's departure or within 6 months after the departure.
About transportation insurance
The procedure for our transportation insurance service is simple. Even if damage occurs, the insurance reimbursement procedure is not difficult.
| | |
| --- | --- |
| 1. | The Insurance is ALL RISK-DOOR TO DOOR. It covers from the place of departure to the place of arrival. |
| 2. | When reimbursing insurance, the declared price on the Packing list will be the maximum guarantee, so ensure that you have entered the declared price correctly. |
| 3. | When the moving cargo arrives at the destination, please check for any damage(s). |
7. Overseas pick-up / Import customs clearance
Delivery service for related documents
When you order us to pick up overseas, we will directly send you the necessary documents needed at your destination.
Necessary documents when the cargo is picked up
Bill of lading (B / L) or air waybill (AWB)

Statement of contents (Packing List)
Passport / Visa
Cargo visa (when sending to Central America)
Keys (trunk, suitcase, etc.)
Other declaration documents
Contact Us
Click here for inquiries regarding pick-up order, estimated shipping costs, required days, etc.

Seino Transportation Co., Ltd. International Department

Phone number
03-3851-2612
FAX
03-3851-2614
Inquiry by email
intl@seino.co.jp
Click here for inquiries and opinions regarding products and services to Seino Transportation by e-mail.
Related services